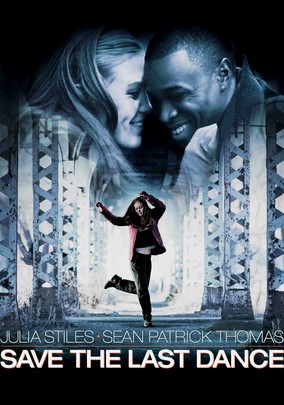 The movie:
Save the Last Dance
(Thomas Carter, 2001)
Have I seen this movie before?
No.
How I saw it:
DVD (via Netflix)
The recommender:
Sarah Orton
The rationale:
The main character's name is Sara (her spelling, not mine) and she is confronted with her whiteness while learning to dance in the clubs. This is what I wanted my adolescence to look like, minus the sad parts. (Also, Sean Patrick Thomas was my everything in 2001.)
My familiarity with this movie:
This is one of those movies that many people are surprised that I haven't seen. In fact, I have probably lied and told people that I have seen this movie so as to avoid the "I can't believe you haven't seen that movie!" conversation. I do this a lot. Here is a (partial) list of popular movies that I have not seen:
The Breakfast Club
,
Clueless
,
Cruel Intentions
,
Gladiator
,
Legally Blonde
,
Love & Basketball
,
Miss Congeniality
,
Pitch Perfect,
Pretty Woman
,
Remember the Titans
,
10 Things I Hate About You.
If I ever tell you that I've seen any of these movies, I am lying to you (unless, of course, I see them in between writing this and talking to you).
Sarah informs me that this is a personal film for her and her adolescence. If I had to name a similarly personal film for my adolescence, it would be
8 Mile
.
Plot summary and trailer yoinked from Netflix and YouTube, respectively: "
After her mother dies, aspiring ballerina Sara Johnson moves in with her estranged father, who lives in a largely black neighborhood. When Sara is befriended by a classmate's brother who shares her love of dance, an interracial romance develops."
What I thought of the movie:
It's not bad! I learned a lot. Sarah and I have been close friends for six years now, but only after having seen this movie do I feel like I really understand her. There's a scene where Sara wows everyone in the club with her newly learned hip-hop dance moves; previously the outsider, she even earns chants of "go Sara, go Sara." I bet young Sarah watched that scene about twelve billion times, each time picturing herself as her h-less doppleganger.
(Incidentally, I'm happy to report that Sarah's adolescent goal of Club Queendom has indeed come to fruition. Once, we were all out dancing and a few random girls tried to push their way into our circle of friends. Sarah, at the top of her lungs, yelled at them to "GETTTTTTTT OUTTTTTTTTT." I will remember that moment for the rest of my life. It is burned into my memory. My only regret is that I did not instantly start chanting "go Sarah, go Sarah," instead of falling to the ground in shock, which is what I did.)
I'd seen this movie described as formulaic and unrealistic. Neither criticism is entirely untrue, but I think they both kind of miss the point. It's somewhat formulaic, sure, but that's not necessarily a bad thing. You don't get to become a formula if you don't work. Furthermore, there is a level of complexity and sensitivity that the movie displays in its handling of race that I did not fully expect. (There's even some stuff about checking your privilege!) Sure, there are a few caricatures (I particularly enjoyed the minor character of Sara's white friend from her original school, who says blatantly racist things while constantly informing Sara that she's "praying for her"), but it's a movie for teenagers. Honestly, I would rather have teenagers see this movie a thousand times than have them see
Crash
once.
Is it realistic? I don't know. It's set in an inner-city school, and I'm conditioned to distrust any depiction of such schools in movies.
I have a limited understanding of what constitutes good dancing, so I don't know if Julia Stiles and Sean Patrick Thomas are actually good dancers, but they seemed p good to me. But I have a feeling that some things were as close to realistic as you'd want in a movie like this, and while other things were less so, nothing really took me out of the movie all that much.
However, I would like to point out one hilariously unrealistic thing that happens toward the end that did take me out of it a bit.
(SPOILER ALERT, I GUESS)
So after rediscovering her love for dance, Sara gets a big audition for the Juilliard School. However, she's recently broken up with Derek due to the formula for the movie saying that they have to break up before getting back together at the end. Her confidence thus shaken, she messes up the beginning of her dance and is about to give up. Derek, a Man, arrives to save the day, going up on stage with her to restore said confidence. This is not the unrealistic part I was talking about, although it is wildly unrealistic.
With Derek, who somehow has not been forcibly removed from the theater, watching from the wings, Sara starts her dance again, this time doing an incredible job. When it's over, one of the judges says, "I can't tell you this on the record… but welcome to Juilliard." WHAT. THAT IS NOT A THING. I've run auditions in the past, and while I know very little about the world of theater and dance, I do know that YOU DON'T DO THAT. ESPECIALLY not for an audition to GET INTO A SCHOOL. Did they even check her transcripts?
(Side note: I recall a similarly unrealistic plot line involving the Juilliard School in one of my all-time favorite films,
The Last Song
. The Juilliard School keeps allowing its name to be used in movies, which is kind of a mixed blessing for them: on the one hand, the references perpetuate the notion that Juilliard is the #1 school for the arts in this country; on the other hand, the way the audition process is depicted in these films indicates that the school has no idea in the slightest what it's doing. In this film alone, we learn that they'll let random people barge into private auditions, and that they'll make immediate post-audition promises that they might not be able to keep! I'd almost rather go to the JK Simmons music torture school from
Whiplash
!)
Despite that rant, I promise that this is a very enjoyable movie. It's well-acted (what ever happened to Sean Patrick Thomas, BTW? He's excellent!), it has a positive message, and there are a lot of scenes that depict people expressing their emotions through dance. You can't ask for much more than that.
Am I happy I took Sarah's recommendation?
So much so that, if anyone ever denigrates this movie in my presence, I will tell them to "GETTTTTTTT OUTTTTTTTTT."
What's next?
UPDATE: Meg Moran, who definitely was not lurking in my classroom while I was writing this post during our shared planning period, recommends the Antonioni classic
Blow-Up.